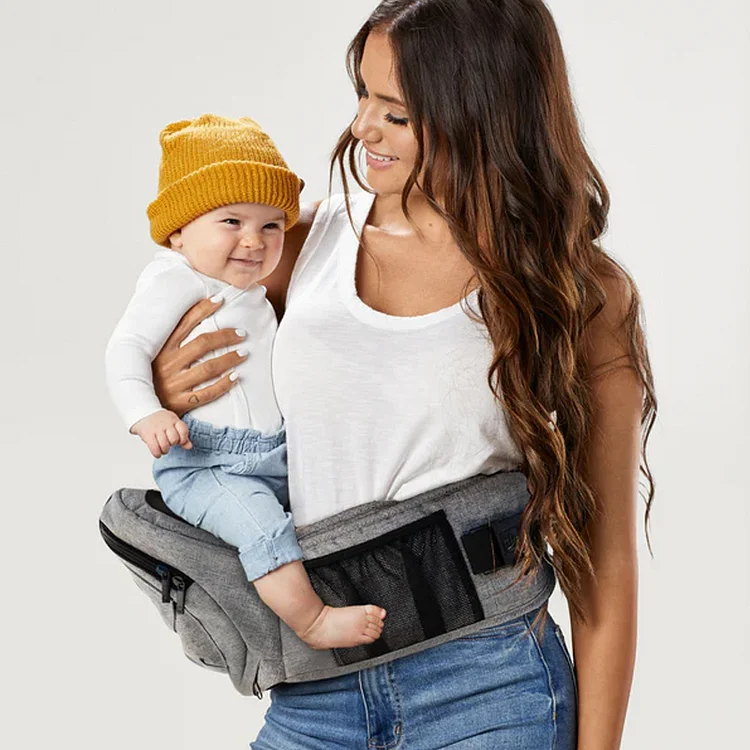 Description
Tushbaby is a strap-free, ergonomic hipseat that evenly distributes your baby's weight—so you can carry your little one longer and more comfortably.
Recommended by pediatricians, chiropractors, physical therapists, orthopedists, pelvic floor therapists, and spine surgeons.
Details & Specs
Fits newborns to 36 months, and up to 45lbs (can also be used for breastfeeding support)
Fits 23-44 inch waist (add up to 24 more inches with our Waistband Extender)
Four carry positions
Five storage pockets
Hideable bottle holder
Offers back & lumbar support
Reduces back, arm & wrist strain
Stain-resistant and machine washable
Paci Pod

&

Changing Pad

sold separately
Waistband 47"L x 6"H. Seat 6"L x 7.5"W (at base/widest part)
Weighs under 1lb
1 Year Warranty
Health Benefits
There's no question that carrying your kid can cause your body pain. The added weight with or without a carrier can put pressure on your upper body and add stress to your arms, shoulders, neck, and back.
Because it sits high and tight above your hips, Tushbaby protects those muscles, joints, and bones by supporting your back (and your baby) with its built-in lumbar support and ergonomic design. The seat evenly distributes your baby's weight across your hips, while the waistband allows you to remain upright ache-free.
Without the usual pain and posture problems that come from carrying your baby without a Tushbaby, it's much easier to recognize the benefits that both of you are getting.
Wearer Benefits:
Keep your baby close, even on long outings.
Support your back, neck, and shoulders day in and day out with built-in lumbar support and an ergonomic design.
Keep one hand free for tasks while your other arm balances baby on the seat.
Carry them until you just can't: Tushbaby can be used for children up to 3 years of age.
The physical contact of babywearing releases oxytocin and promotes milk production. Plus, it can help with postpartum depression and anxiety.
Baby Benefits:
Babywearing helps your baby learn and promotes physical and emotional development.
Babies worn in carriers cry less and bond more.
Tushbaby's seat supports optimum hip growth and hip health by seating their legs in the "M" squat position.
Tushbaby has been endorsed by pediatricians, orthopedists, physical therapists, pelvic floor therapists, chiropractors, and even spine surgeons. Below are a few of our favorites.
Of course, if you have a medical condition or are unsure if Tushbaby is the right product for you, we recommend consulting your doctor before purchasing or using it.
Doctor Testimonials:
"I can't tell you how many adult back injuries I've seen that started with 'So, I was carrying my baby and…' Tushbaby is the perfect product for reducing the muscular strain on the spine while holding young children. Its ergonomic design eliminates the detrimental position parents resort to while carrying their kids — where they push their hips out and curve their spines. If you want to stay out of my office, I highly recommend Tushbaby."
- Dr. Nicholas Cruze, D.C. (Chiropractor)
"Tushbaby's hipseat puts the child's hips in the proper "M" shaped position with thighs supported, also known as the "Spread Squat Position". Sitting with this alignment decreases the risk of hip dysplasia. As a result, Tushbaby is an anatomically safe product for babies' bodies."
- Dr. Andrew L. Nash, M.D. (Pediatrician)
"Tushbaby has been saving my back and wrist while I multi-task with my baby on my hip. I highly recommend it to all my patients to help balance their body while carrying their little ones."
-Dr. Kseniya Gershberg, DC (Chiropractor)
"As a physical therapist and mama, I love that the Tushbaby offers my low back, neck and shoulders a break while still allowing me to carry my baby. Had I known about this carrier during pregnancy it would have 100% been on my registry!"
- Dr. Betsey Caldwell (Physical Therapist & Postpartum Coach)
Tushbaby is great for my patients! It provides good support in a variety of positions that are great for the adult and the baby.
-Dr. Fleming (Physical Therapist)
I've been a general pediatrican for over 20 years and often have parents, colleagues, or friends show me new products for babies and children. I often like the products. However, when I saw Tushbaby on Shark Tank, I reached out to the company as I had to see for myself if it was really as good as advertised. Surprisingly, it was BETTER. It's rare to see a product that makes day to day life so much easier for parents, yet is still comfortable for the baby and most importantly safe. Parents of babies have a lot on their plate, and literally a lot to carry. Tushbaby is a game changer. I truly believe Tushbaby will change how new parents carry their babies and will be the new baby carrier standard.
-Jason Bromberg M.D. (Pediatrician)
The easy way to carry your kids whether they want up, down... or up again
Vary how you carry
Ditch the difficult carriers and complicated strap-ins. Tushbaby is changing the way parents carry their kids with a simple hip seat that allows for both flexibility and support.
Stash your stuff
Put diapers and wipes in the storage beneath the seat. Access your keys, phone, and wallet in the side pockets. Attach toys to the loops and tuck bottles in the holder.
DOCTOR APPROVED
"Tushbaby is an anatomically safe product for babies' bodies"
— Dr. Nash, Pediatrician
"The perfect product for reducing muscular strain on the spine while holding young children"
— Dr. Cruz, Chiropractor
FAQ's
1.What is a baby hip seat carrier?
As our children grow out of the newborn phaseand into the toddler phase, they can begin to grow and become heavier. If youare carrying or holding your young one frequently and for long periods of time,their weight can put a strain on your back, shoulders, neck, and arms. It isnot as easy to hold your child as when they were a newborn. A baby hip seatcarrier is specifically designed to help alleviate some of that weight fromcausing strain on your body and creating uncomfortable tension that can lead tobody aches, headaches, and minor injuries. The baby hip seat carrier allows youto comfortably hold your toddler on either side of your body while utilizingyour stronger waist, hip, and pelvic muscles to support the weight of yourchild rather than your arm (note: it evenly distributes the weight and absorbssome of it), shoulder, and neck muscles. The baby hip seat carrier allows youto easily go from holding your baby to letting them down so they can run aroundfreely. Other carriers strap in your child, however, a baby hip seat carrier isperfect for toddlers who are constantly wanting to go up into your arms anddown to walk or crawl around and up again. The carrier is an open carrier thatmakes transitioning between up and down easy for both you and your child. Eachcarrier is designed differently and you should refer to the manufacturer'srecommended uses for the individual carrier brand, make, and model.Learn more about baby carriers here.What Are The Different Types of Baby Carriers?
2.Are hip seats safe for babies?
Yes, hip seats are safe for both babies and parents. Tushbaby hip seat baby carriers are free of harmful chemicals, approved by global safety standards, and verified through SGS testing. SGS testing is a world-leading testing and certification company. Aside from addressing the safety of the materials used to construct the hip seat, we need to address how proper use of a baby hip seat carrier can help ensure the safety and comfort of your child.
Once your infant has neck muscles that are strong enough to move them from a newborn carrier to a hip seat carrier, there are a few additional safety measures you should take when your child is sitting in the carrier. First, you want to make sure that your child is sitting upright and their neck and back are properly supported. Next, make sure the baby hip seat carrier is fastened securely to your body and that your child is flush against you as well. By following these few operating safety instructions, you can ensure you are using your hip seat carrier correctly and safely.
Now that we have established that the materials are safe and how to properly use your hip seat carrier, it is important to discuss how the hip seat carrier is safe for the parent who is wearing it. The baby hip seat carrier distributes the weight of your child evenly while absorbing a lot of weight too. This helps reduce strain on your lower back, neck, arms, and shoulders. Additionally, the baby hip seat carrier helps to keep you standing upright and keeps you less top-heavy. When someone is holding a child with either a different style of carrier or with no carrier at all, they tend to be top-heavy causing them to slouch over and put a strain on their lower back. As the weight of the child gets heavier and heavier we often pop a hip to the side to leverage some of the weight. This causes strain and stress on the body including the spine. The baby hip seat carrier keeps you upright, and if you already have pre-existing back pain, then a hip seat carrier is perfect to ensure that the weight of your child is not directly putting stress on your spine and/or back muscles. Ultimately, baby hip seat carriers are safe for not only the baby but for the parent as well.
3.Is the Tushbaby hip seat carrier easy to put on?
Yes, the Tushbaby hip seat carrier is hassle-free. It is compact, folds-up quickly, and weighs less than 1-pound. The Tushbaby hip seat carrier is extremely easy to put on by yourself as it only requires one person to fix the carrier to the body.
4.