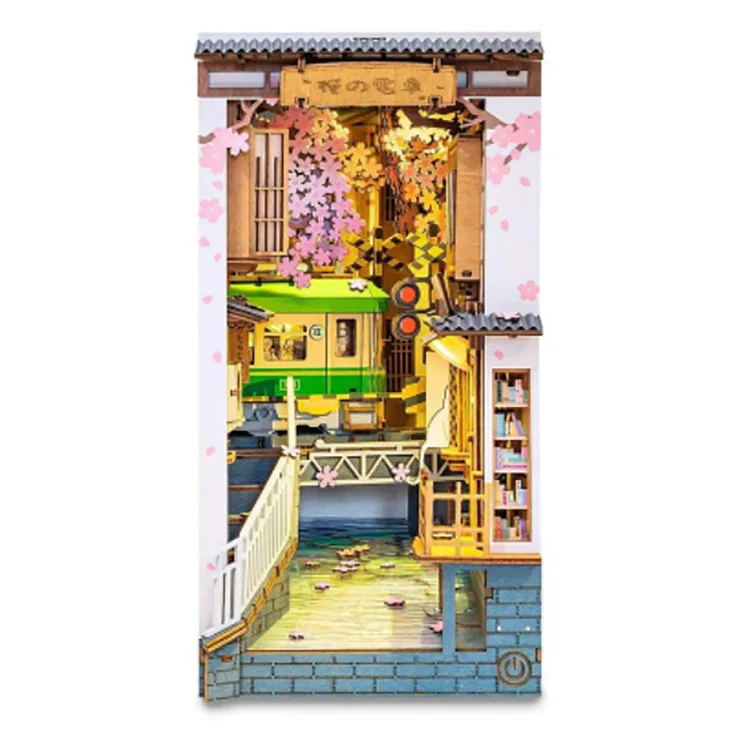 Why Miniature Crafts?
✅lnspire lmagination & Creativity
✅Encourage learning, Concentration &Patience
✅The Ultimate Bonding Experience
✅Perfect As A Gift
✅Stress Relief (Take Your Mind Off)
Furnished With The Finest Details
-Our Sakura Densya Book Nook Shelf lnsert is a Japanese inspired DIY Miniature Kitthat you can build it from scratch with your own hands.
Realistic cherry Blossom Miniatures
- We've taken inspiration fromactual renowned places in Japan rangingfrom Himeji Castle to Meguru River. OurSakura specimens and pieces have beendesigned to look and feel like Japan.
Densya Train
- lt shows a beautiful scene ofDensha (electric multiple unit train) cruisingacross Cherry Blossom season during Springtime. Depicting a tranquil and calmingmotion scene in Japan.
Radiant Bright Lights
- lt will also lookamazing when you put it in the dark with thewarm lights on. More importantly,it can helpcreate your imagination and increase creativity, which is a perfect hands-on gift forkids & adults.
A Timeless Masterpiece
- This miniaturehouse book nook will be a great home decorfor a bookshelf or any other room space.
No Additional Tools Required
-Everything you need to build Sakura DensyaBook Nook is provided inside our kit. Simplyunbox and start crafting!