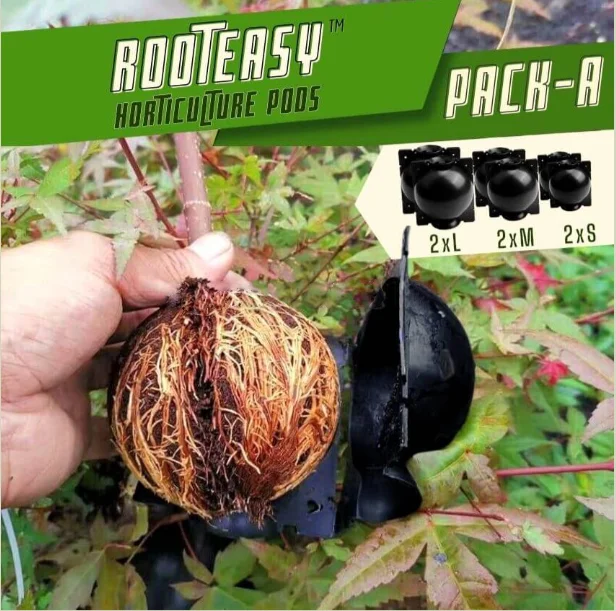 Love Plants🌸?
This Might Be The Best Thing You Ever Bought!
Fastest Way To Grow Roots!
Do you still seed your new plants?
Forget it! RootEasyTM is by far the fastest, most natural way to grow new plants without disturbing your existing plants.
RootEasy pods use the age-old method of air stratification, rooting directly on branches, to produce more mature plants faster than normal propagation methods. It allows you to see breeding results for many species within 4-8 weeks of installation. Pods are durable and can be reused many times
Clone Like A Pro In Just 3 Steps
Cloning with RootEasy TM is a child's play.It just takes 3 steps and you're done.
Step 1.At the position where rooting is needed, peel offthe bark to a width of about o.8in-lin (2-2.5cm).Be sureto peel the bark clean! Step 2.Put moist moss or gardensoil into the plant root growing box.Step 3. Wrap theplant root growth box filled with damp moss or garden soil around the stripped bark.
Finally, roots appear from peeled area and within fewweeks you get a fresh, healthy plant . Now, you can plant it in the ground
100% Natural With No Damage
RootEasyTM pods are absolutely safe for the mother plant and do not cause any damage to it.
Because only a small branch on the mother plant isused for rooting, it grows with the mother plant, sobreaking after rooting will not have any effect on themother plant, nor it interferes with the natural growth ofthe plant.Also, the RootEasyTM pods can enhance plant resistance and prevent plant root rot.
What's more? Compared with other plant propagation techniques, the success rate is far higher.