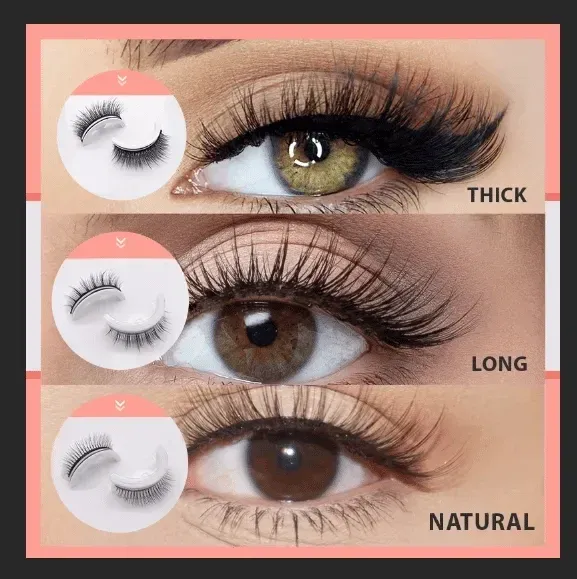 Always spend a lot of time on eyelashes?
Try our Self-Adhesive Reusable Eyelashes, which is easy and fast to apply, greatly simplify your makeup process. It is natural like your own eyelashes, and can be reused.
No glue or Eyeliner Needed.
Easy to use, saving time and effort!
MAIN FEATURES
No glue or Eyeliner Needed
The newest false eyelashes that is easy to use, no need of glue or eyeliner. It is self-adhesive and can be applied in 3 seconds, greatly simplifies your makeup process. Saving time and effort.
The false lashes are reusable and washable, more sanitary and healthy to use. Comes with replaceable adhesive strips that won't fall off even after repeated use.
The false lashes have nice curling radian and blend seamlessly with real lashes, making your eyes bigger and more glamorous. They are as natural as your real eyelashes without the feeling of wearing false lashes.
Made of premium synthetic fibers, it is easy to use and remove. There won't be any residue left on the skin, non-allergic and comfortable to use.
Packed with an exquisite box, it is a great gift on Christmas, thanksgiving, birthday, valentine's day, mother's day for women.
How to apply?
1. Clean eye area(Must be worn before makeup).
2. Picks up both ends of the eyelashes with the point of the white blade and moves the eyelashes out.
3. Crop the eyelashes to a suitable length.
4. Stick the middle of the eyelash first, and fix the end of the eyelash at both of your eye corners.