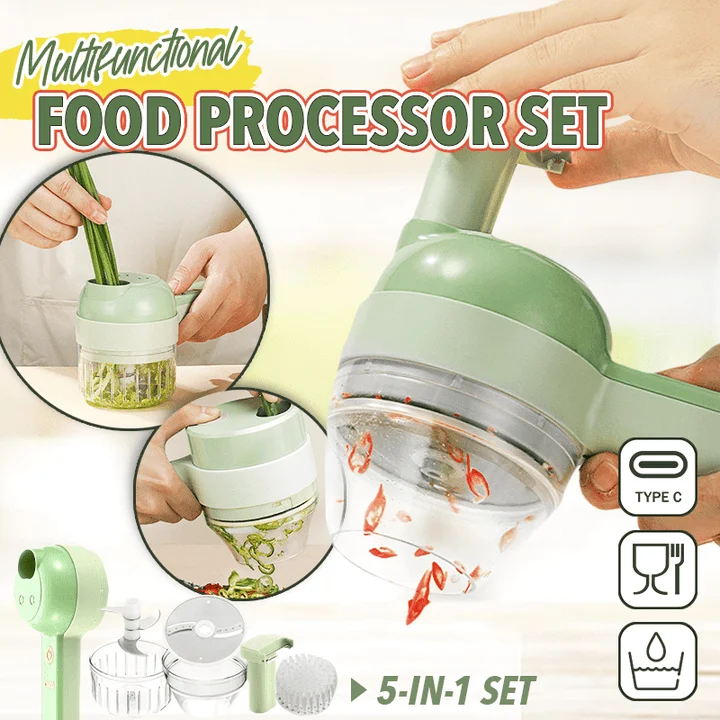 Cut down your kitchen prep time with this multifunctional electric food processor set!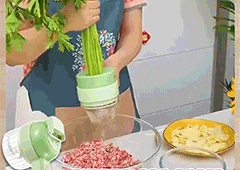 This electric food processor set offers 2 different sharp blades that performs an automatic rapid spinning in just an easy press. Allowing you to effortlessly slice or mince ingredients into thin crisp or as coarsely or finely as you like, depending on how long you process it. Suitable for garlic, chilis, carrots, onions, peppers, cowpeas, asparagus, yams, meats, and so on. It also has a handy peeler that neatly removes vegetables or fruit skin's in a swipe without sripping too much flesh. The multifunctional set even includes a bristles brush that you can attach on the device for a quick and thorough electric cleaning. 
The electric device features a comfortable handheld design to provide better gripping and control. It comes with a convenient feeding port that allows you to directly add food anytime while eliminating repeated opening and twisting lid. Moreover, the food processor has a fully washable body and it even has a 1-key cleaning function. Simply put on detergent and some water inside the open port, press the start button to stir and wash the residues then rinse it and done. This electric device is completely rechargeable and it can be boosted up anytime using the included cord or any type c charging interface.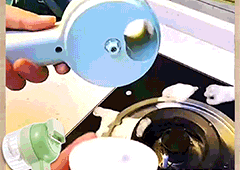 Quickly chop ingredients or prepare meat using only this multifunctional electric food processor set! 
FEATURES:
4-in-1 Electric Food Processor


A smart electric kitchen device set that comes with 2 different razor sharp blades for slicing and mincing food. It has an easy press button that allows the blade to spin rapidly like a lawnmower for chopping foods into thin crisp or as coarsely or finely as you like. This set also provides a handy fruit and vegetable peeler that neatly removes the outer layer in 1 swipe without stripping too much flesh off. It can be used as an electric cleaning device as well just by attaching the included bristle brush and operating it. Ideal for scrubbing pots, frying pans, casseroles, and other cooking utensils. Saving you ample time and the chore in slicing, mincing, peeling and even in cleaning after. 
Open Feeding Port


The multifunctional food processor is equipped with a convenient filling hole for adding ingredients directly into the cutter/mincer. Allowing you to continuously prep your food and put on other pieces while eliminating the tedious steps of opening and twisting the lid repeatedly. Its rapid blade rotating mechanism prevents any ramming or getting stuck which is great even for tough or lengthy edibles. No worries as it has a 20ml large capacity and even with the open design, it does not create any spilling or splattering when slicing or mincing. 
Ergonomic Design


This fine electric device offers a humanized, handheld feature which supplies maximum gripping and control. It avoids slipping and ensures that your hands won't tire even after a prolonged, continuous use. It even has a mini spatula that allows you to smoothly take the minced or sliced food effortlessly from the container. Moreover, the food processor tool provides a long-lasting performance and is completely rechargeable.

 

You can fully boost it anytime in just about an hour using the included cord or any type-c charging interface.  
 

Wide Application


It is highly applicable for grinding or mincing garlic, chilis, carrots, onions, peppers, cowpeas, asparagus, yams, meats, and more possibilities. You can even use it to make your baby's food and make it more denser and finer.

 

Furthermore, the electric processor is lightweight and compact which is perfect for traveling. Suitable when you're on family outdoor dining, camping, hotels, apartments, vacations, and other outdoor activities.   
One-Key Cleaning

The food processor is detachable and is designed with a fully washable body so you can clean without affecting its performance. It even functions an automatic cleaning simply by adding the detergent to the inlet and clicking the start to stir and wash the residues. After that, just rinse it through running water and you're done. No more tough scrubbing needed! 
Premium Quality


Made of high-quality, food-grade ABS+PP+PC materials with stainless steel blade and serrated peeler edge. It can flawlessly cut through most vegetables and fruits and be used daily for years without wearing. Additionally, the food processor is odorless and it does not create any toxic leaching to ensure the user's safety and health
SPECIFICATIONS:
Material: ABS, PP, PC, Stainless Steel
Size: Please refer to the image below
THE PACKAGE INCLUDES
1*Multi-function wireless electric grinder+1*Cuisine+1*Slicing+1*Brush
Obs:
Please allow slight dimension deviation due to manual measurement.

Due to different monitors and lighting effect, the actual color of the item may be slightly different from the color shown in the pictures.