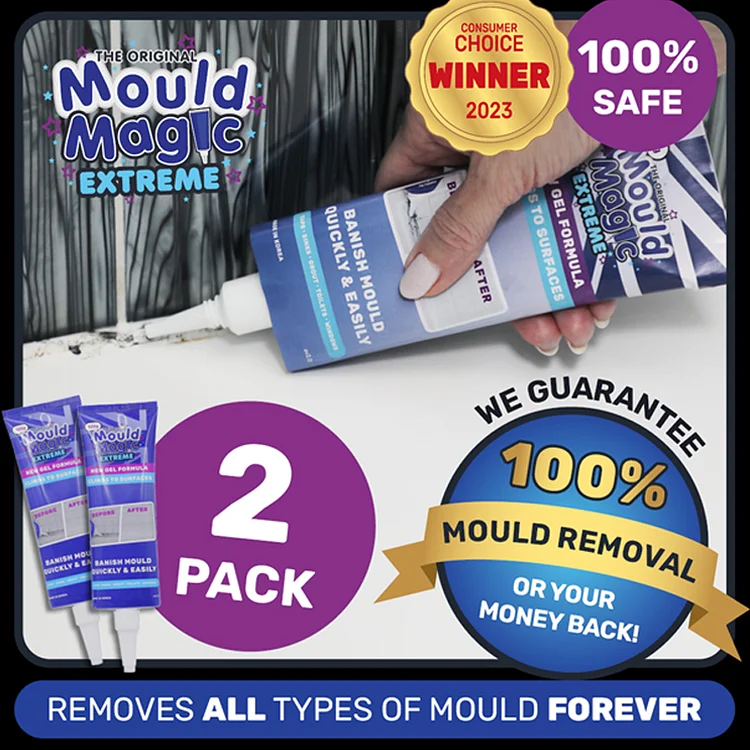 Mould in your home is ugly and can lead to health problems for you & your family.
Other products just remove the surface mould, leaving the spores beneath the surface
free to continue to grow so the mould returns within a few weeks.
What a waste of time & money. The Original Mould Magic formulation is different - and unique.
It penetrates deep-down into the surface, eradicating ALL types of mould at the source,
so it CANNOT come back – EVER - we GUARANTEE it!
Gel Formula Clings To Surfaces
Eliminates ALL Types Of Mould
Mould Will NOT Return… ever
Fast & Permanent Fix
Safe On All Surfaces
2 Large Tubes
Got mould? You need to act -
FAST

!

According to the NHS, mould spores can seriously affect your family's
health leading to respiratory infections, allergies or even asthma.
Just one application of Mould Magic will eliminate 100% of the mould & protect your family's health
Unique Extreme GEL Formula CLINGS To Surfaces
Stays in place clinging to walls,tiles, glass & even ceilings
No drips, no runs. In fact - it's so 'clingy'
you can even use it upside down!
This No-nonsense, Patented Formula WORKS Where Others Have Failed
Fed-up spending money on poor-performing products over and over again only for the mould to return in a few weeks?
The Original Mould Magic is independently tested & certified to remove years-old ingrained mould and give long-term protection so it won't come back – ever!
Soft Surfaces, Too
Eradicate ALL types of mould & mildew on shower curtains, seat covers, curtains & more
No Scrubbing
No Effort - No Fumes
100% removal with almost zero effort required
Inside & Outside
This professional strength formula gives astonishing results inside AND outdoors
Safe For You, Safe For Colours, Safe For Chrome
Does no damage: 100% safe to use on chrome, coloured sealant & grout