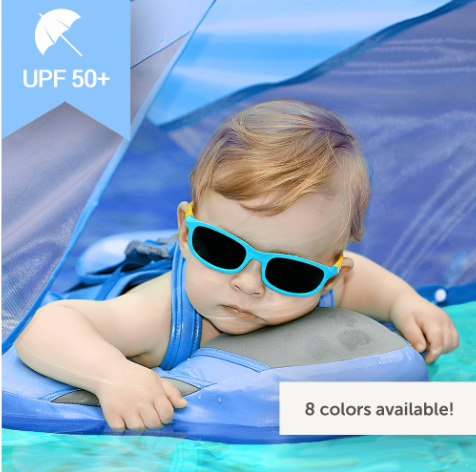 PRODUCT DETAILS:
Material: Soft, skin-friendly, water-resistant TPU fabric
Size:46.5cm x 48.5cm x 15cm
Package lncludes: 1 Authentic MamboTM Float,1 UV-Proof Canopy 8 1 Shark-Fin Tail (if selected)
Suitable for babies up from 3 months - 2 years old (6-18kg/12-4Olb)
The Mambo Baby Float with sunshade cover is back andbetter than ever for 2021, this latest and greatest waterproof infant swimming training device featuresimproved safety harnesses, better anti-flip properties,and refinement to the overall design, along with newcolors.
This world-renowned anti-puncture swim float forbabies and toddlers now comes with a UPF50+ UVproof canopy to protect your baby's sensitive skin fromharsh sun rays while they're blissfully floating about.lt features a Patented Design specifically For Baby SwimTraining and introducing them to water for the firsttime, and also meets European/Aus/NZ/USA/UK SafetyStandards.
*All New Exclusive to Bubbly Baby Co* - Summer 2021Shark (pink & blue) with Anti-Flip Tail now available! -This further adds to the buoyancy and balance topracticaly eliminate any chance of flipping! Werecommend this model.
Product Description:
Suitable for babies up from 3 months - 2 years old (6-18kg/12-4Olb)
European EN13138 &AUS/NZ 1900:2014 WATERSAFETY CERTIFIED
Mambo Authorised Seller | Authentic Original BrandAttachable canopy with SunSmart UV Protection 50+8Anti-Flip Tail - Allows your baby to swim without damaging their skin by the harmful UV rays.

Fully Adjustable 5 Point Safety Harness with button lockcatch - Prevents the baby from slipping, fully adjustablefor all baby sizes with a dual protection clasp for maximum safety.
Designed For Maximum Comfort  Usability - The thickpadded chest & crotch straps ensure the baby doesn'tslip when they are paddling and let the baby swimcomfortably for hours at a time!
Anti-flip design.This baby trainer pool float has widened sides for maximum buoyancy and the front ofthe float is heightened to avoid tipping over.No risk ofaccidental tipping in any direction.You can also placeyour baby backward for a lying position.
No more accidental leakages from old inferior airinflatables. Our PearlFoamTM material is for the nextgeneration of water buoyancy swim assist aids withwaterproof high-quality skin.Perfect material forbuoyancy.
Baby Skin-Friendly Materials - The float is covered bya soft, skin-friendly, water-resistant TPU fabric.
Ergonomically designed for maximum comfort.Allowsyour baby to learn to swim on their belly in a 45-degreeneutral position instead of an unnatural vertical position.
This baby swim trainer is lightweight and very portable.You can take this to the beach and pool.Also,it a great to use in a bathtub to get your baby comfortable and confident in the water.A greatalternative to swimming.
Happy Customers
We've supplied our patented  ultra-safe Mambo Floatto thousands of parents around the world.
How do l securethe Mambo float tomy baby?

Unlock the baby infant swim float buckles.
Place the baby in middle face forward and down.Wrap and close the side wings on baby float aroundtheir back.
Adjust the strap tightness around the waist of baby infloat.
Adjust the bottom crotch straps for tightness to fit childsecurely.
Let your infant or toddler begin to swim in their newsafety swimming float!
Does it ever leak orget damaged easily?
Nope! lt utilizes our patented PearlFoam technologycombined with a tough exterior cover which ensures itwill last for years to come! lt can even withstand theweight of a car with no deformations or damage at all.That means no more leaks, punctures or blowing!
What is theminimum andmaximum age/weight to usethis product? 
Suitable for babies up from 3 months - 2 years old (6-18kg/12-40lb)