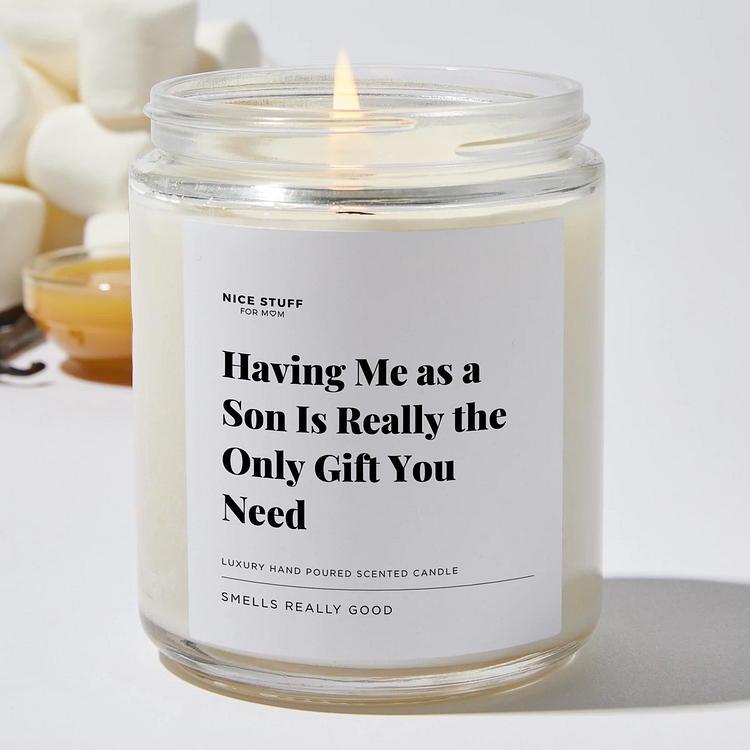 The Nice Stuff For Mom Luxury Candle is a simple treat that will not only help you relax and escape from the stress of life for a little ME time but will also add ambiance and a beautiful aromatherapy scent to your living room, kitchen or bedroom. This luxury candle is for you Mom, you deserve to have nice stuff.
RELAX & UNWIND Citrusy scent with mandarin, grapefruit and bergamot top notes with subtle notes of ginger and green leaves.
SO FRESH & SO CLEAN Jasmine scent with hints of lemon, orange, musk and eucalyptus.
SMELLS REALLY GOOD Vanilla scent with notes of musk, caramel, milk and marshmallow.
BEST SPA DAY EVER Fresh apple scent with notes of bourbon, vanilla and cardamom.
DARK & HANDSOME Manly scent with marine and pineapple top notes with subtle notes of musk, amber and cedar.
INGREDIENTS: Non-Toxic Soy Wax Vegetable Blend, Exotic Blend of Essential Oils, Cotton Wick and of course LOVE. 
1 WICK: 35 Hours* | Net 7 oz 

* Estimated, results may vary
OUR PROCESS
We put the utmost care into making your new candle. It starts with the high end fragrance oil thats made from rare natural ingredients curated and tested just for you.
We then pair these ingredients with our very own Soy Wax Vegetable Blend that's non toxic and burns clean without harming you or your family.
Once the pairing is complete your candle is hand poured specially for you by a skilled craftsman who literally wears white gloves. Your new candle is then packaged and shipped directly to you for you to enjoy. You deserve the best and we don't take it lightly.
WHY IT'S AMAZING
Your new Nice Stuff For Mom Luxury Candle is great for aromatherapy. Each fragrance is designed to elevate your mood by releasing a small but continuous stream of floral and herbal essential oils into the room. Your new Nice Stuff For Mom Luxury Candle is a great way to escape from your hectic life. We made this candle just for you, sit back relax and enjoy a glass of wine or a nice book while you do nothing.
HOW TO ENJOY YOUR CANDLE
The best part of having nice stuff is when you truly get to enjoy the fruits of your labor. So before you use your new Nice Stuff For Mom Luxury Candle here are a few tips and tricks to get your money's worth.
Your first burn needs to be at least two hours until the entire surface is turned to liquid wax this will ensure you get a level burn for the life of the candle.
Before you light your new candle, always trim the wick to ¼ inch and remove any debris left in the wax pool such as wick trimmings.
Never burn your candle for more than 3 - 4 hours at a time. Burning a candle for too long will cause carbon to collect on the wick, leading it to "mushroom." The wick will then become unstable and produce a dangerously large flame. Plus, your candle will start to smoke and release soot.
Keep the flame away from moving air. Moving air can disturb the flame, resulting in those pesky black marks on the glass.
Always burn the candle on a stable, heat resistant surface. This can help prevent heat damage to underlying surfaces and prevent glass containers from breaking. Keep out of reach of children and pets.