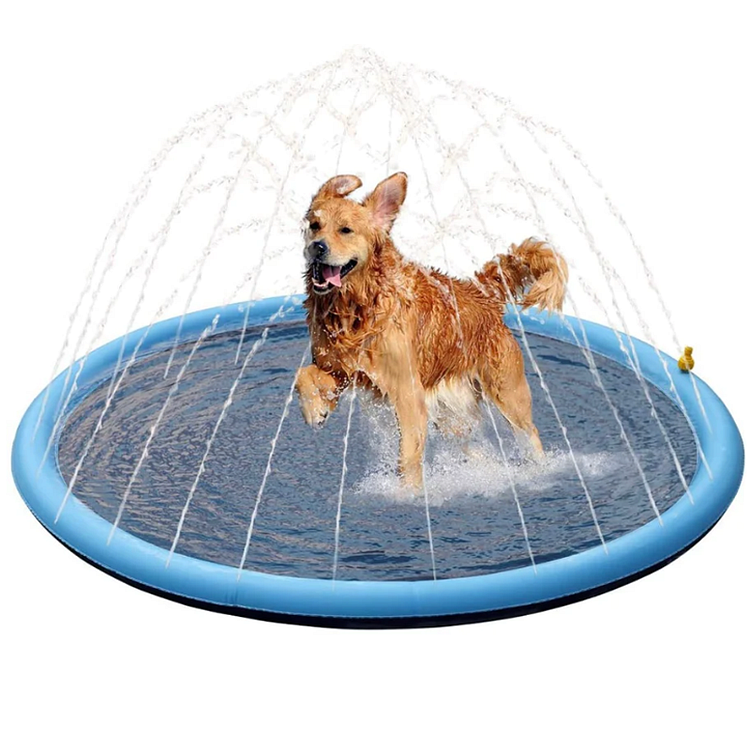 . Keeps your furry friend happy. Keeps them active and healthy
. Keeps them nice and cool in hot weather
Exact Size: s (100x100 cm),M (150 x 150 cm),L(170x170 cm)
WHY YOUR DOGGY NEEDS A FURRY SPLASHER?
KEEPS YOUR DOG COOL IN HOT WEATHER
Unlike humans, dogs can't sweat through theirskin so they are a bit more sensitive to heatthan we are. However not to worry, the FurrySpalsher doubles as a pool, simply turn off thewater and the water will stay in the Furry Splasherand serve as a cool and refreshing place whereyour pup play and chill out in the hot weather

STAY ACTIVE AND HEALTHY
All dogs need daily exercise to stay happy,active and healthy. In general most dogs needatleast 30 minutes to 2 hours of physical activityper day. The Furry Splasher provides a placewhere they can play to their hearts contentwithout overheating in hot weather.

FUN FOR DoGS AND KIDS
lt so much fun for dogs, kids...ohh and adultshaha. lt combines the best parts of a kiddie pool,water slip n slide,and sprinkler to make the mostentertaining spray pad on the market and a greatalternative to a traditional swimming pool.
WHAT'S IN THE BOX?
. 1 x Furry Splasher
SIZE SPECIFICATIONS:
Small (100cm x 100cm)
Medium (150 cm x 150 cm)
Large (170 cm x 170 cm)