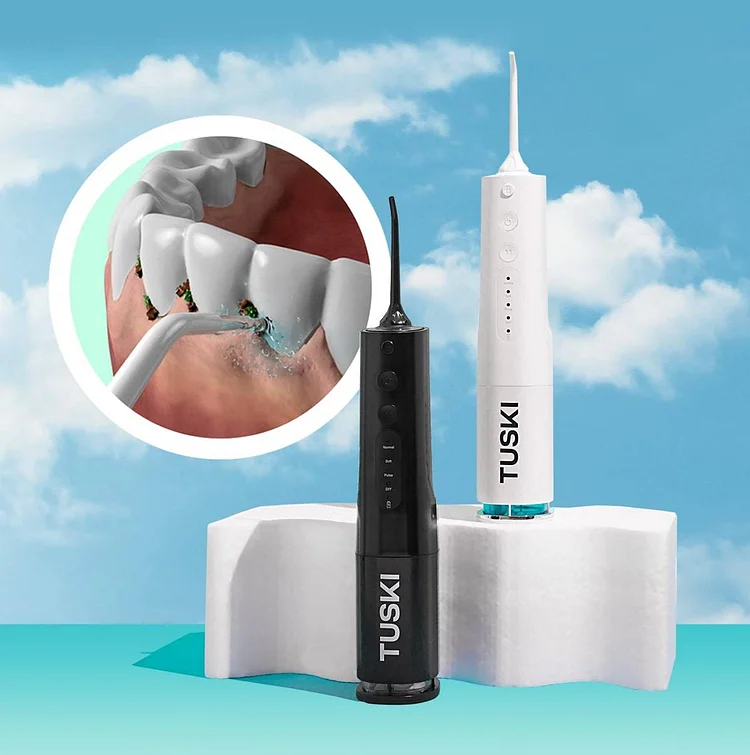 Start flossing the easier, faster and more effective way
⭐ 1,000+ Trusted Customer Reviews
✔️ 30 Seconds A Day: All it takes is 30 seconds per day to get the benefits
✔️ 360° Coverage: Clean those hard-to-reach areas
✔️ IPX7 Waterproof: Use it in the shower
✔️ USB Rechargeable: Charge once and use for up to 20 days
✔️ Cordless & Portable: Perfect for travelling
✔️ 2 Colors Available: Available in White or Black
✔️ Save Money: Ditch the single-use plastic string floss
Say goodbye to painful string flossing and hello to fast and effective teeth cleaning
The Tuski Water Flosser uses High Pressure Water Technology to give your mouth a deep clean that is faster and more effective than traditional flossing.  
This means improved gums, fresher breath and whiter teeth.
A study published in the Journal of Clinical Dentistry reported water flossing to be 29 percent more effective than traditional flossing¹.
"What it does is shoot a high power stream of water into those hard to reach places, around implants, under bridges and they keep a healthier smile, healthier gums and fresher breath." 
Dr. Ric Sherman, DMD
Oral Hygiene Made Easy
Water Flossing removes plaque from treated areas with a 30-second use. Plus, it's able to remove bacteria deep between teeth, where brushing can't reach.
The Tuski Water Flosser is ideal for everyone and can benefit many types of oral conditions, including those with braces, implants, fillings, crowns, bridges or veneers.
With its IPX7 waterproof rating, the Tuski Water Flosser can be safely used in the bathroom and even in the shower. It's also perfect to take with you on holiday or on travel!
"I used to hate string flossing but my Tuski Water Flosser has completely changed the game. Flossing only takes me 30 seconds now. My teeth are whiter than before too!"
An Ultra Bright Smile Without The Hefty Price Tag
We believe that oral care should be fun, easy, and never feel like a chore. That's why we created the Tuski Water Flosser.
Compact in size yet big on power, it will give you whiter teeth and happier gums without the price tag that screams "Ouch!!".