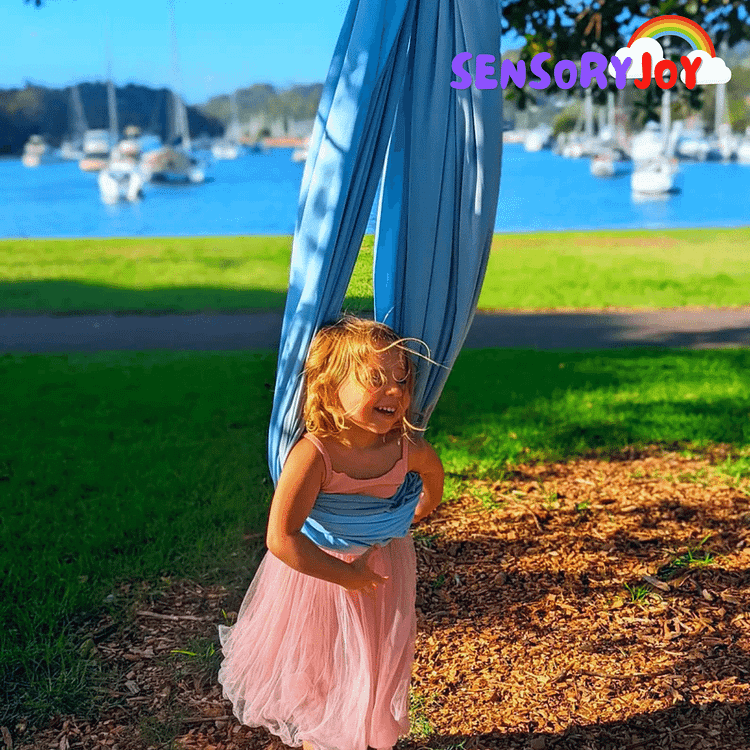 Claire P.★★★★★
"My special needs children love this swing! l have two of them. My son is milder than mydaughter. I bought the swing for her room.She goes through moments of getting veryoverstimulated, and then her behavior is uncontrollable.l needed SOMETHING to help calm her. This was the answerl lt's been two months since my husband hung it in her room, and shegoes to it every single day.The material hugs her, giving her the compression she needswhen she gets overstimulated.For a special needs parent, this swing is a MUST! It is veryworth the investment."
✅NOW with reversible double layered top quality cotton fabric to give it the best flexibility and stability
✅5 minutes of swinging provides calming effects for up to 4 hoursUsed by Occupational therapists to prevent meltdowns and tantrumsUses vestibular input which soothes away stress & excess energy
✅Perfect for kids with Aspergers Syndrome,Autism,Attention Deficit Hyperactive Disorder(ADHD), Sensory Processing Disorder (SPD) & Down Syndrome
✅Comes with everything you need to install in 10 minutes
✅Suitable for kids 3 years and older
✅Holds up to 200lbs (90kg)
This Will Revolutionise The Way YouHandle Meltdowns, Lack Of Focus &Other Sensory Challenges

After raising our own sensory kids, we wanted a solution that was just as effective asthe ones used in Occupational Therapy clinics, but in our own home! That's when wecreated this Sensory JoyTM Cuddle Swing 2.0.
How It Works

The secret that makes this swing so effective at teaching kids how to self-regulatetheir emotions is the magic of Vestibular Input-- (a fancy way of saying 'the sensation of movement').

Vestibular input calms your child in minutes and allows them to self-regulate theiremotions for hours.This means better focus while in class, doing their homework,and during family activities.

ccupational Therapists have known about it's hidden ability to speed up achild's sensory processing and have since been used sensory swings as part oftheir practice for years!And now you can reap all the benefits in your own home!