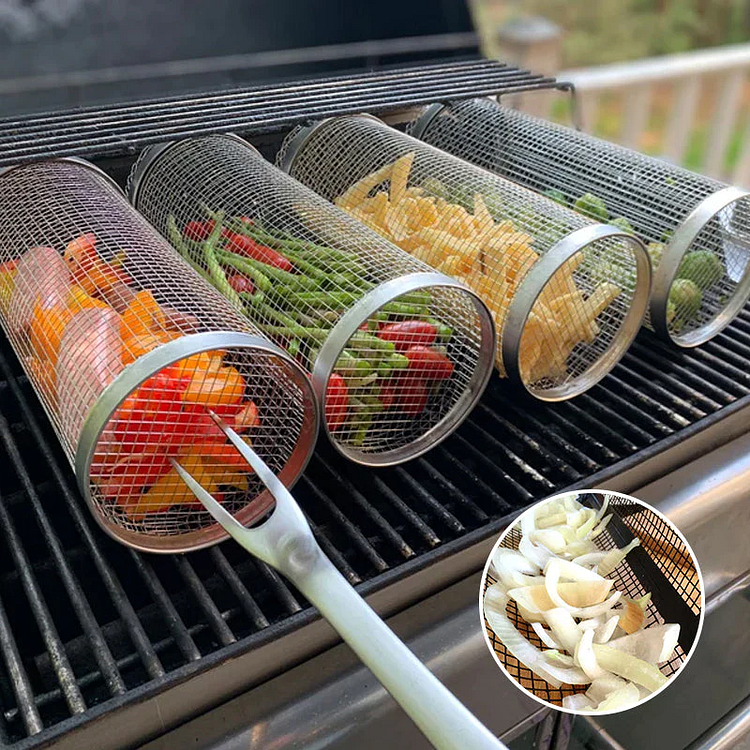 FEATURES
Designed to rotate 360 degrees: It heats food more evenly and makes it taste more delicious. Our stainless steel basket is perfect for roasting and grilling your favorite vegetables. This basket can also become a kind of wok to prepare a healthy stir-fry with prawns, scallops, ground chicken or pork. It can even be used to smoke meat, making it an essential addition to your cookware.

Stainless Steel Construction: These grill baskets are made entirely of stainless steel, making them safe to place on the grill and easy to clean. You won't lose food between the grates and it can be used as a wok, smoker or grill basket. It's dishwasher safe, making it incredibly easy to reuse. Whether you have a gas grill or a charcoal grill, this basket will work.

Easy to use: With the movable door, it is more convenient to open, close and take out the food. Easy to open and close with the unique door, it fits perfectly with your original rotisserie when you use it in a rotisserie.

Grill like a pro: With this barbecue basket, you can easily grill vegetables and other foods like asparagus, mushrooms, Brussels sprouts, sliced peaches, onions, peppers and a variety of delicious meats. Whatever food you want to grill or smoke, this portable grilling tool will make the job easier. Once you use this amazing grilling tool, there's no going back.

No need to turn food by hand: This grilling accessory is essential because it saves you from having to turn food by hand. It can be cumbersome to have to turn large amounts of food while cooking. This grilling tool makes grilling easy and efficient. Simply fill the basket, close it, place it under the grill lid, and turn the food often using our heat-resistant gloves or tongs.
SPECIFICATIONS
Material: 304 stainless steel

Size: 21x9x9cm

Weight: 165g
PACKAGE INCLUDES
1/2pcs x BBQ Grill Basket
NOTE
There may be a slight color difference due to different monitors/brightness. Thank you for your understanding.
Please allow a tiny difference due to manual measurement.