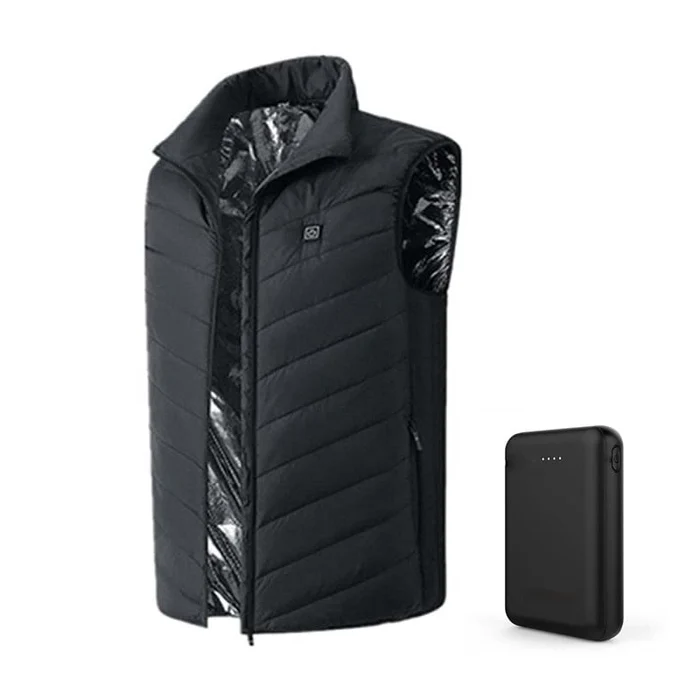 Our heated vests reach temperatures as high as 140° F, this is an important element to ensure our loyal customers receive
the safest heated clothing
on the market. We match this
versatile threading technology
with an appropriate
5V
battery that provides the right amount of power to the heated apparel without overheating, not only delivering heat
the quickest
but also providing
the longest and safest
running battery life.
New Colors Two-touch LED Controller Heated Vest
Upgrade Two-touch LED Controller
4 carbon fiber heating elements, for core-body warmth.It has two buttons to control the temperature,One button controls the heating on the front of the vest, and the other button controls the heating on the back of the vest, Both buttons control the low, medium and high temperatures.
Benefits & Features
Heated vest is a packable puffer made of wind and water-resistant, machine-washable, lightweight nylon material and cruelty-free filling. Carbon-fiber heating elements deliver up to 12 hours of rechargeable heat. Four heating zones in the chest, back, and neck with up to 140° F of instant heat will offer rechargeable warmth in all the right places, and keep you going on all of the adventures to come in warm comfort.
The first step in how to wash a heated undershirt is to disconnect and remove the batteries, place the undershirt's attached cord in the pocket and fasten all zippers. Whether you wash them by hand or in the washing machine, it is best to use cold water. The second step is to place the heated undershirt in a laundry mesh bag and place it in the washing machine, making sure to run it on a gentle cycle. Be careful not to use bleach or similar strong solvents, as this may damage the insulation of the underwear.
How It Works
Wear your heated vest with or without the heating elements engaged to keep your core warm, simply press the control button to your desired warmth level and wait. Your battery pack will signal the conductive threading to send electrical currents throughout the item, reaching the temperature you've requested in roughly 30 seconds or less.
FULL PRODUCT FEATURES
FELLEX Insulation with Bluesign Certification
12-hour battery life with a lightweight, comfortable lithium-Ion battery
One-touch LED controller with 3 heat settings: low, medium, and high
4-zone heating - one large area for the waist, back and one area for the neck (waist, collar, mid-back)
Conductive thread heating technology with 5 volts safe battery pack
Wind and water-resistant lightweight nylon material
Rather than using electric wires, conductive threading is a flexible e-textile that works with the wearer, making it a more comfortable option than the feel of wiring throughout your apparel. Conductive thread heating is an extremely lightweight yet durable heating option for wearable technology, offering high resistance, strength, and flexibility. What makes conductive thread safer than other heating options is the ability to handle high temperatures.
Size Chart
Whether enjoying the outdoors, working outside in the cold, or just looking to get a little cozier indoors, we've got the heated Vest(with rechargeable battery)to deliver the right amount of warmth for every situation the moment you need it.