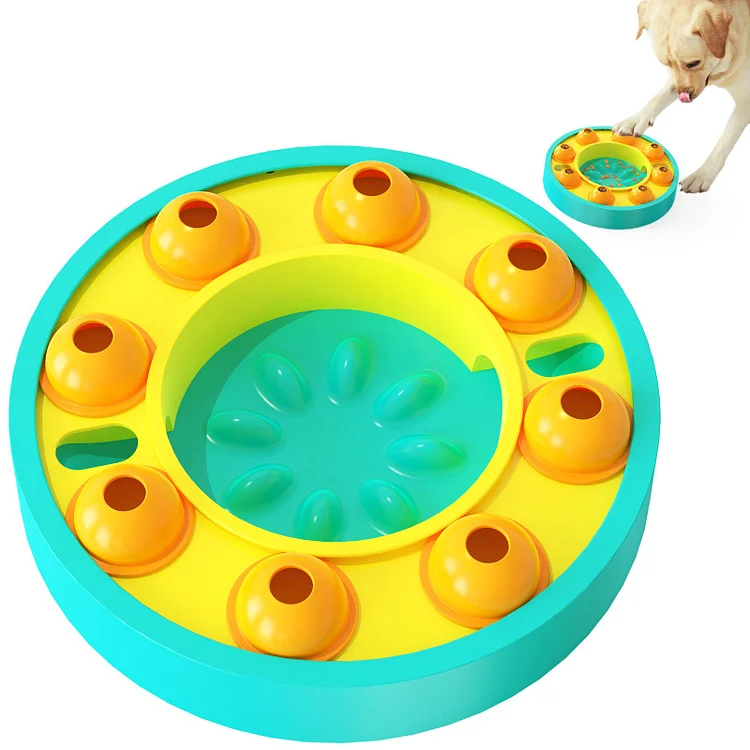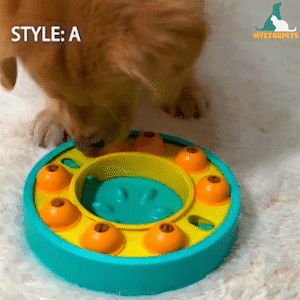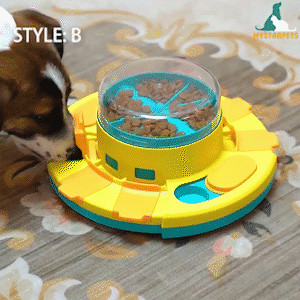 [Multi-function dog toy] This is a puzzle toy specially designed to enhance pets intelligence;different from the traditional recreational pet toys, this toy allows your dog to get food reward while become more intelligent through his initiative. It cultivates him using the brain.
[The upgraded puzzle toy] It can be played with difficulty level 1 alone or played with difficulty level 1 and 2. Gameplay of level 1: add the dog kibbles into 8 barns around the toy, 6 flip type barns and 2 slide type barns. Guide the dog to flip or slide the lid of different barns on the food plate with his paw or nose, and he can get food reward by playing with the toy. Gameplay of level 2: the dog needs to press the transparent granary cover first, and kibbles will leak out of the granary into 6 barns around the granary, and the dog needs to flip the lid to get the food.
[Convenient for adding dog food] Twist the transparent granary cover counterclockwise• and open it up, directly add dog kibbles or treats to the granary. put the transparent cover back onto the granary and turn clockwise to tighten it.
[Bottom non-slip pad design] The bottom of the toy is attached with 4 non-slip pads, which can prevent the dog from upsetting the toy in playing. When the dog is alone at home, he can also play and eat, and the owner feel rest assured. You can use this toy on any flat place to make your dog smarter anytime, anywhere.
[Easy to use] Hold his paw to pedal the transparent cover, the falling treats quickly attract the dog's attention. Now, cover those barns' lids, train the dog to search for the treats. After many repetitions, your dog will understand the correct way to use this product.
[Fun slow feeding utensil] Not only does this product improve dogs intelligence, but also does it correct his bad eating habit, if your dog is eating too fast. It can be used this toy as a slow feeding utensil.
POWFULL is highly committed to our customers, we stand behind our products and customers. Our ultimate goal is to satisfy each and every customer, from the moment you purchase our products throughout its lifetime.