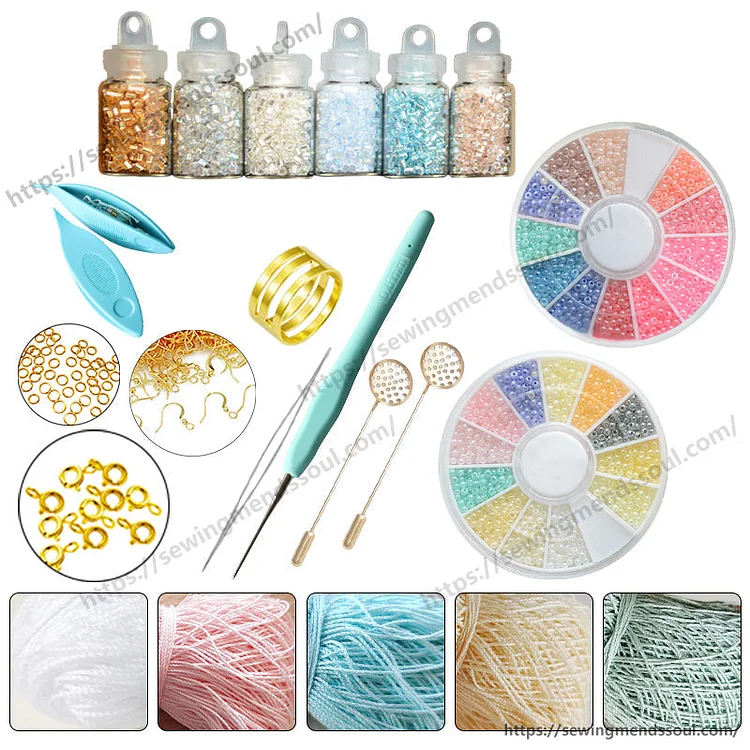 The Art of Needle Lace Tatting
Tatting is an old craft technique for creating intricate lacy projects using thin thread and a shuttle.Also called frivolite (French), the lace is constructed using a series of knots and loops.
This technique is great for making beautiful jewellery(bracelets, earrings, necklaces, brooches), doilies, collars, edging to embellish textiles,3D decorations,Chistmas ornaments,bookmark,elements for gits and cards,single motfs for clothing, or large scales ace projects like curtains, toblecloths,purses, and fashion accessories.
Like those other crafts, tatting has its own core stitches that youllearn when you begin. Basically, what you'll need to know to get started,is that tatting involves a variety of chains, loops,stiches,and rings.You make knots, combine them strategically to get motifs, and use spacing to create different styles of intricate designs.
Feature:
The kit comes with 5 E-bock tutoiol monuals. .These 5 books teach basic woven stitches in simple half-page illustrated instructions. From there, readers will move on to increasingly
1.2 tatting shuttes are included in the set and measure: 0.47" wide and 3.15" long. Made of high-quaity materials, easy to use
2.Crochet Hooks: Our crochet hooks are made of Aluminum whichis durcble and ant-ut tis smooth and can be gided effrtessy though yom.No more handioigue.
3.Comes with 6 colors of 1.3mm short tube beads, the mini size is more in line with the exquisiteness of woven jewelry, with 2 sets of rice beads of different colors. Two styles, rich colors. A variety of creative options and needs can be met.
4.The included beading needle is made of high-quality metal material for long-term use. Suitable for threading into seed beads, suitable for many sizes of threads.
5.Wide Application: This perfect weaving shuttle kit is suitable for all skill levels.
6.Once you've learned one of the oldest forms of lace making, you'll be making stylish pieces for everything from jewelry to holiday accessories.
Package Included:
2* Woven shuttle
1*Tube Bead Kit (6 Colors) 2* Rice Bead Kit
Beaded needle
Handle Crochet · Open Loop Tool
25 pairs of earring accessories. 2*brooch accessories
10*Bracelet necklace connection buckle open jump ring*1 box 5 colors lace thread
Specification:
Lace thread size: 0.6mm*80cm
Tube beads (6 colors) size: 1.3mm; 6 colors, about 300 beads per color Rice beads size: 2mm; 12 colors, about 9o rice beads per color