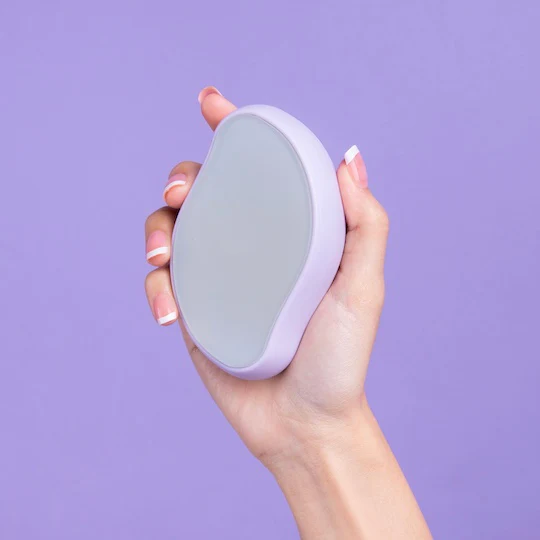 If you're tired of razor cuts, painful waxing or expensive lasers — our hair eraser is for you!
💜 Guarantees to remove unwanted hair
🍑 Gently exfoliates dead skin cell
✨ Painless and Non-toxic
🌱 Eco-Friendly and Reusable (~1 year)
How it works
Using Nano-Crystalline technology, Bleame™ Crystal Hair Eraser allows the hair to clump and break from the surface when rubbed gently on the skin. This process also helps exfoliate, revealing baby smooth skin after use 💜
Instructions
1.Prepare the area
We recommend usage on dry or damp skin after shower.
2.Avoid any cream/lotion
Applying cream or lotion before using will hinder it from working effectively.
3.Get to action
Rub it gently in circular motions on desired areas. (Make sure to patch test before use. If discomfort or irritation occurs, stop use immediately.)
4.Clean your Bleame eraser
You can rinse the Crystal Hair Eraser with water after use.
Look At How Others Are Loving Their Bleame
These women are actual Bleame customers that have seen results with consistent use of Bleame's Crystal Hair Eraser!
Hair removal just got waaaaay easier
Not all trips to the wax salon ends with a pleasant experience because things can get pretty hairy (get it?) during the whole process. Meet Bleame Crystal Hair Eraser – the easiest, painless hair removal for a smooth skin instantly!
1.Easy to Use
Simply rub it to your skin in circular motion for a hair-free body!
2.Travel Safe
Unlike shavers, you can take Bleame with you wherever you go.
3.Long Lasting
No refills or recharges required and it is reusable up to 1 year.
4.Slows Hair Growth
Designed to slow down hair regrowth in just a couple of sessions.
The Future is Hair-Free! 💜
Said the appearance of their strawberry legs improved
Noticed a reduction in the appearance of ingrown hairs
Saw an improvement in the look of skin firmness
What Babes Like You Are Saying
Rated 4.8/5 by 5,000+ Happy Customers
What Makes Bleame Special
Find out why you should choose Bleame instead of other hair removal tools.