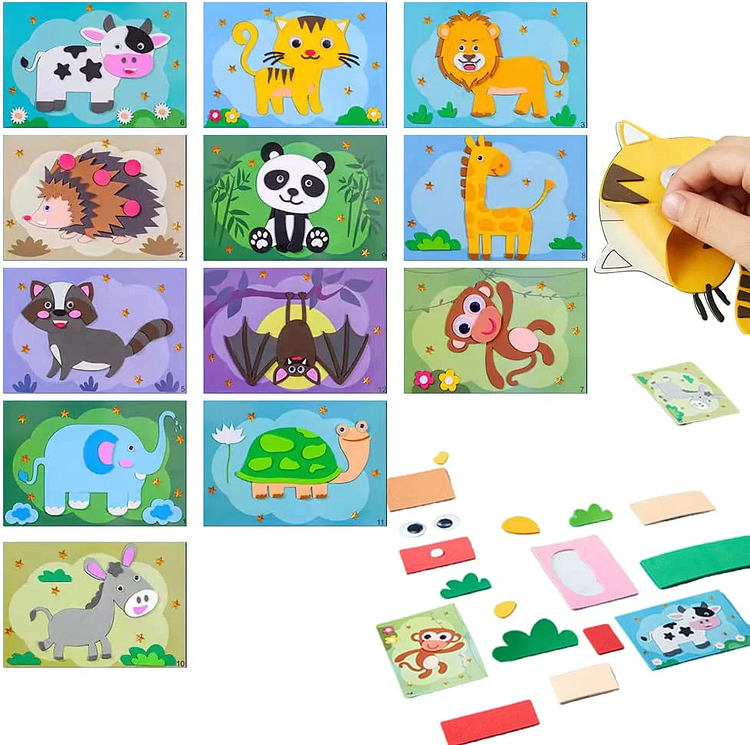 A fun and engaging way to learn about different shapes, colors, and sizes! ✍🏿
 (and create hours of FUN and EVERLASTING memories together 🤩)
 

 

 

 "My five year old granddaughter loves making these pictures and is able to do it with minimal help. Putting them together also makes her think!"

Why is this super fun toy a must-have?
🐷 The DIY stickers are three-dimensional. With rich styles and a variety of colors, all kinds of cute cartoon patterns, children can choose their favorite patterns at will. The sticker puzzle game will keep your kids busy. They feel like they accomplished a beautiful picture.
🐰 High-quality Material: DIY Animal Stickers are made of high-quality materials, which are safe and non-toxic. The pattern is cut thoroughly and can be easily torn off. After completing the artwork, kids can paste it on the wall to decorate the small house, or store it to add beautiful memories.
🐯 Easy to Make: No glue or scissors required, just peel off the adhesive and stick it on the cardboard layer by layer according to the prompt picture. The wood pulp white paperboard and the film covering layer can be torn if they are wrongly pasted.
🐋 Educational Decorations: Handmade Stickers need to be pasted layer by layer, which can cultivate the baby's ability to operate, coordinate hands and eyes, and observe. Sticker games can enhance children's ability to recognize colors, exercise image thinking ability, and improve ability to solve difficulties.
🐟Ideal Gift: The DIY stickers are suitable for family, birthday party, preschool kindergarten classroom, family party, holiday party and so on. 
📝  Product details:
-Quantity: DIY Foam Stickers (12 Sheets)
-Material: Foam
-Age appropriateness: 3+ years old
📦 Package includes:
-1X DIY Foam Stickers (12 Sheets).