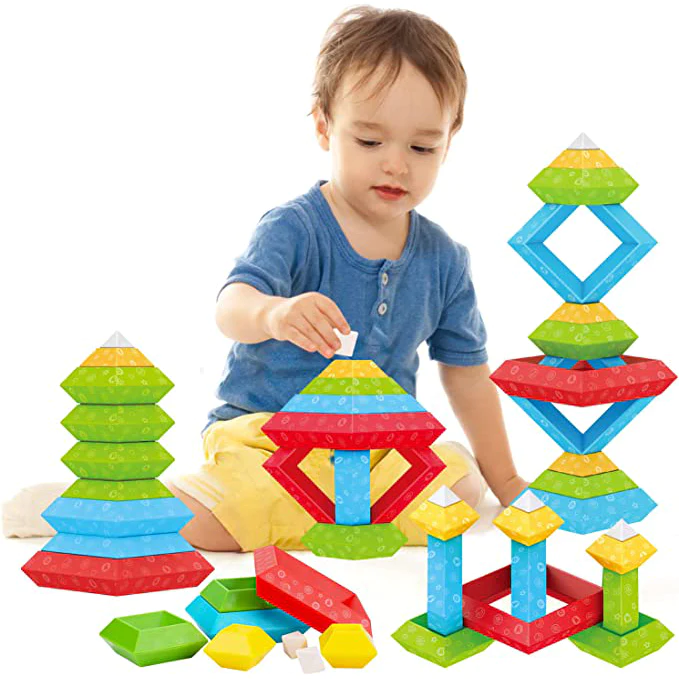 Great Montessori Stacking Toys】The Montessori toys for toddlers set includes 30/45/60 PCS stacking blocks of 5 various bright colors, shapes, and sizes. Toddlers aged 18-36 monthes can create more than 60 kinds of designs by referring to the guiding manual, and toddlers aged 3-5 can create their own designs with their rich imagination. Kids' logical thinking skills can be better improved.

【Valuable STEM Educational Toys】The Montessori toys for 2-year-old are designed as learning toys to help your kids to develop their fine motor skills, problem-solving skills, hand-eye coordination, color recognition, and also arouse their creativity and imagination. Great toddler learning toys and preschool learning activities.

【Safe and Durable Stacking Blocks】Our toddler toys aged 2-5 is made of premium plastic materials. Safe, lightweight and smooth for kids to grab easily and play! Kids can develop a good habit of storing toys after playing with them. Also, the stacking blocks can be taken to anywhere (school/party/trip) by using the bag. Super portable travel toys.
【Sensory Toys for Toddlers 2-5】Bright colors and different shapes of building blocks toys are perfect for your kids to build early and basic cognition of color and space geometry. Making various combinations with our STEM toys also can attract kids' attention and keep them busy. Awesome toddler toys for ages 2-5.