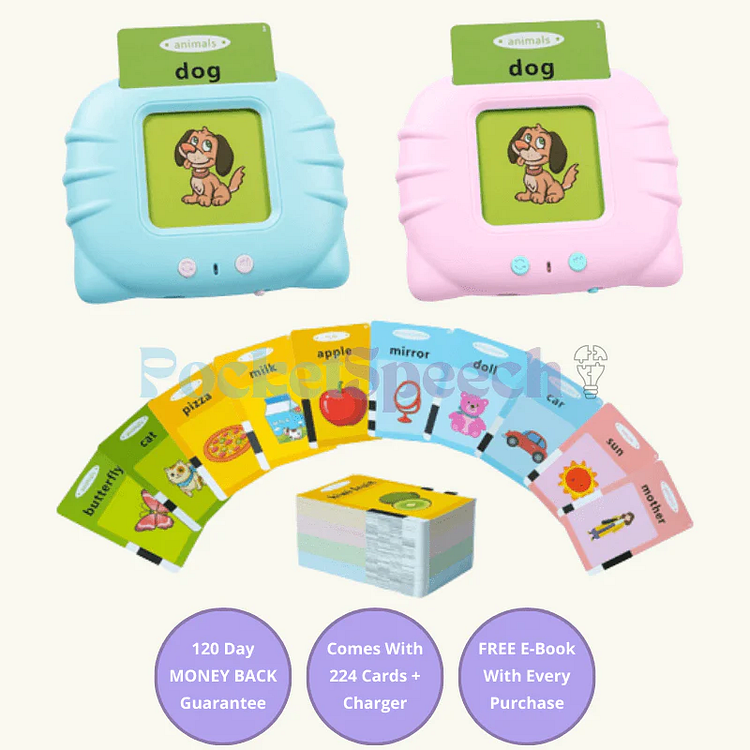 This interactive toy has helped thousands of toddlers find their voice.
✅Interactive, Fun & Educational
✅Develops Vocabulary & Speech
✅Comfortably Designed For Small Hands
✅Bonus: Free Educational Parenting E-Book
Hear From 20,000+ Parents Like You!
Children who have PocketSpeech see almost an instant improvement in their speech.
Learn from verified users below!
"Combines fun and education!
My 2 year old daughter loves this! This isa great teaching tool for building language and word knowledge withtoddlers.The card reader fits easily intoher little hands and helps provide an interactive experience when learning newwords." -Laura E.
"Perfect for speech development
l just purchased this as a Christmas present for my 3yo daughter who isstruggling with speech delays. We areseeing great progress with the PocketSpeech and it certainly helps thatshe is obsessed with playing all day longand repeating the words!" -Cindy B.
Unlock Your Child's Potential
👏Noticed an improvement in their child's vocabulary
👏Said their child speaks with more confidence
Promotes Development & Advanced Learning
👏This interactive toy strengthens the link between words, objects and sounds, resulting in improved speech development!
👏With a few hours a week, this toy enhances your child's cognitive ability, speech & hearing and vocabulary.
Reduces Risk Of Speech Disorders
👏Early interactive learning with new words enhances language development and reduces stuttering, apraxia, and dysarthria.
👏The PocketSpeech™ is designed for your child's success by providing endless joy and imaginative learning.
You Are Your Child's First Teacher
✅Give your child a headstart in life
✅Improves literary & academic success
✅Jumpstart your little one's vocabulary
✅Non-toxic, BPA free, 100% safe
Support your children's development with an educational environment full of rich learning opportunities.
The PocketSpeech™ proved to be the best choice for parents.
Frequently Asked Questions
1.What type of words are on the cards?
The words are common objects that toddlers and children interact with every day, such as fruits, objects, vehicles and colors.The words are common objects that toddlers and children interact with every day, such as fruits, objects, vehicles and colors.
2.How durable are the cards? Are they waterproof?
The cards are made with heavy-weight (350g) coated paper and laminated with thermoplatic film so that the cards are lightly waterproof and not so easy to be fold and tear up by kids.
3.What's the recommended age range?
The PocketSpeech™ is perfect for children between the ages of 2-5 and older if they are speech impaired!
4.How do I repeat the word multiple times?
Simply press the right sided button to hear the word again! You can press it as many times as you want.
5.How do I adjust the volume?
The volume button is located on the bottom left in the front of the PocketSpeech™!
6.How long can it be used on 1 charge?
The PocketSpeech™ can be used up to 4.5 hours with a single charge.
7.Is the PocketSpeech™ available in other languages?
Currently the PocketSpeech™ is only available in English! But please keep an eye out for new releases with expanded language.