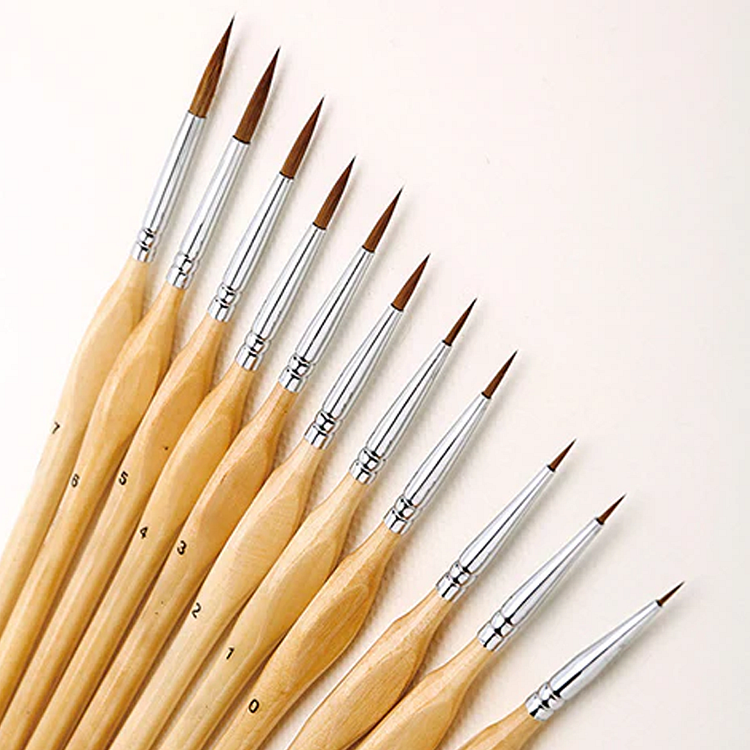 Describe:
This set of detailing brushes offers the perfect small paintbrush for each phase of all your artistic painting projects, ensuring that you always have just the right paintbrush for the job.
11 PRECISION POINTS

- 11 various sizes (5/0, 3/0, 2/0, 0,1, 2, 3, 4, 5, 6, 7) of miniature brushes to ensure that you always have the right paintbrush.
SUPERIOR QUALITY CONTROL

- All the miniature paintbrushes are handmade and are secured with high-quality aluminum crimped ferrules, offering excellent liquid holding capacity that results in an easy, consistent smooth flow of paint. Also, the paintbrush tip is made of high-quality nylon hair which is soft and flexible, sturdy enough not easy to bend or split with pressure, trimmed and shaped neatly, no strands stick out.
PERFECT GRIP & BALANCE HANDLE

- The handle is made of natural wood and designed easy-grip triangular shape, making you feel comfortable and secure while holding it. These artist brushes come with protective tubes, which are handy to keep them in shape after using and cleaning.
VERSATILE PAINTBRUSH SET

- These detail brushes are suitable for acrylic, watercolor, art painting, face painting, miniatures, detailing, craft art painting, model, etc.